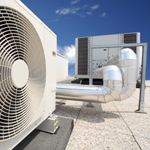 The Commercial Department at Kelley Mechanical is here to serve all your needs, from light commercial to industrial HVAC applications. We are a company that is committed to excellence in every aspect, from installation to service to customer care. Give us a call and let us take care of all your commercial needs.
Click Here to view our Commercial Installs on our Photo Gallery page.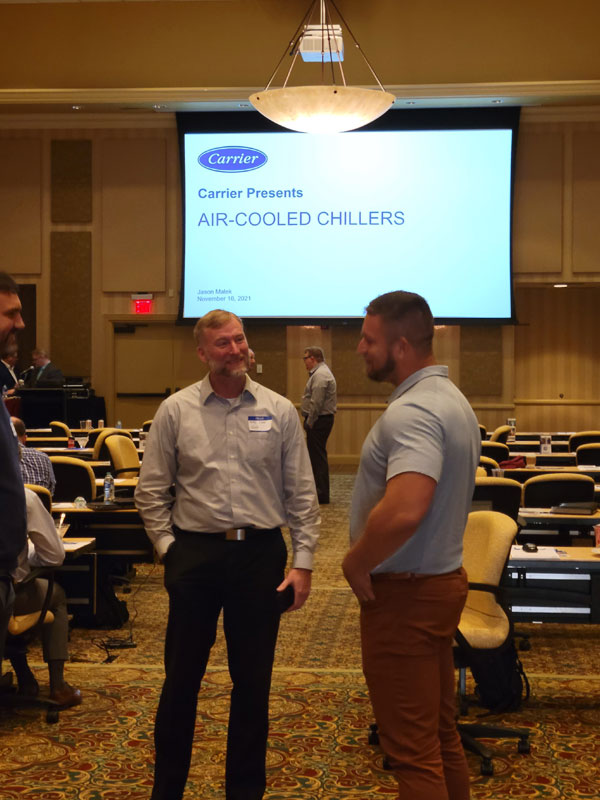 Patrick Kelley at Carrier Commercial Training Seminar
Heating and Cooling
We are experienced in the installation and servicing of all types of commercial HVAC equipment, including:
Rooftop Units - Carrier provides a complete line of commercial packaged rooftop units with Puron® refrigerant to meet demanding HVAC system requirements. These packaged air conditioners deliver performance for various ranges of industrial applications.

Split Systems - With Carrier split systems, a wide range of outdoor air conditioners and heat pumps works seamlessly with innovative indoor air handlers to create reliable solutions that are easy-to-install and service for a wide range of commercial HVAC needs.

Water-to-Water Water Source Heat Pump - These units provide a practical and economical approach for comfort conditioning requirements in replacement, renovation, and new construction applications. The 50PSW unit can be used in both traditional and geothermal applications, such as in tempering ventilation air, various hydronic applications, or serving as a stand-alone boiler/chiller.

Chillers - The Carrier AquaSnap® 30MP chiller delivers high-efficiency cooling customized to the precise requirements of your facility. With a host of configuration options, the AquaSnap 30MP modular chiller is a snap to install, operate and control for years of quiet, reliable, cost-saving performance. And thanks to its modular design, the 30MP chiller plant can match a facilities' present and future capacity requirements by adding modules as needed.


Carrier offers compressors, compressor units, condensing units, water cooled condensers, and chiller barrels for commercial air conditioning and refrigeration applications. They can be used to replace or enhance mechanisms within existing systems or to create custom solutions for new applications.

VAV Systems - VAV systems supply air at a variable temperature and airflow rate from an air handling unit (AHU). The zone controller is a singular duct, fan powered, variable air volume (VAV) terminal control with factory-integrated controller and actuator. The zone controller maintains precise temperature control in the space by operating the terminal fan and regulating the flow of conditioned air into the space. Buildings with diverse loading conditions can be supported by controlling reheat (single duct only) or supplemental heat. The zone controller can support two-position hot water, modulating hot water, or 3-stage electric heat.

Temp Control Systems - With controls ranging from thermostats and zoning systems to powerful, web-based software products, Carrier places the power to keep your system operating at peak performance at your fingertips. We're experts in helping you balance the growing need for efficiency with the consistent demand for comfort.

Exhaust and supply fans These fans works by pulling hot air, grease, oil, smoke, contaminated air and other particulate matter up through your hood filters and restaurant vent hood and duct system. Most commercial kitchens will require at least one upblast exhaust fan and hood system. Upblast exhaust fans are typically installed on the rooftop.

Make-up Air Units - A full-service commercial kitchen cannot rely solely on their HVAC system to supply all of the necessary air to maintain balanced kitchen airflow, so a make-up air unit is needed. Typically, 80% of your makeup air will come from a make up air unit, and the other 20% will come from your building's HVAC system.

Clean Rooms - A cleanroom environment protects the outer areas of a facility from harmful biological agents and interior equipment designed for technicians such biological safety cabinets, filtration fume cabinets and laminar flow cabinets protect the scientists while they conduct their procedures that involve hazardous materials.

Commercial Dehumidifiers - Bry-Air's MiniPAC® dehumidifier is the ideal dehumidification solution for facilities in need of reliable humidity control or mold and mildew protection. The MiniPAC® can be installed as a stand-alone unit or attached to any central air conditioning system to enhance the system's dehumidification capability. It is a small, yet powerful unit that combats the effects of moisture in up to 10,000 sq. ft.* and is ideal for a wide variety of applications.


Mechanical Insulation - Mechanical insulation is industrial thermal insulation for all types of equipment, and every category of mechanical systems. These systems involve boilers, HVAC, as well as ducts. Mechanical Insulation is the one thing that goes into a building and starts paying for itself as soon as the system is activated – immediately saving energy and reducing greenhouse emissions.
Variable Refrigerant Flow Systems
What exactly is Variable Refrigerant Flow? It's an HVAC system that uses refrigerant to heat and/or cool a space. There are two types of VRF systems: heat recovery and heat pump. The biggest difference is that heat recovery units can heat and cool at the same time, while heat pump units can only heat or cool at once. So, heat recovery systems, which improve efficiency by taking heat from one space and redistributing it to another, are ideal for anywhere you need zone-by-zone control—like a hotel or assisted living facility. And heat pump systems are great for spaces where only one mode of operation is needed, like a bank.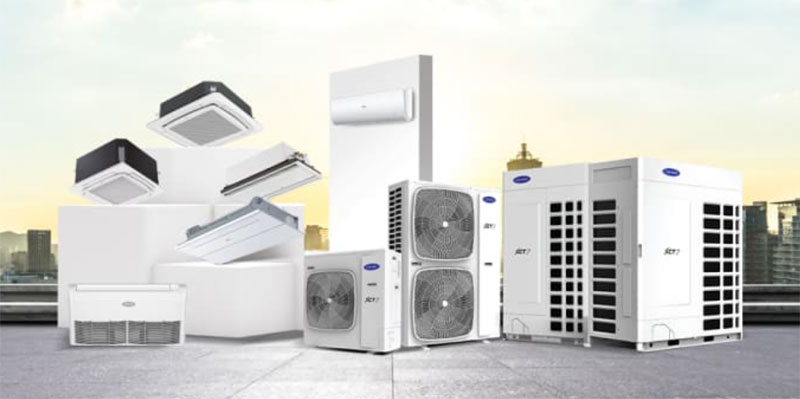 Suitable to precisely match the building's cooling and heating demands, Carrier VRF systems utilize a 2-pipe system for both heat pump and heat recovery. The heat recovery system uses a multi-port distribution controller (MDC) which acts as a central location allowing better refrigerant distribution to all indoor units. These systems typically take less piping and connections to configure between outdoor unit multi-port distribution and indoor units.
Commercial/Industrial Boilers
install & repair commercial/Industrial steam and water boilers such as the featured Unilux, Harsco Industrial, Weil-McLain, Peerless, Cleaver Brooks and many more.
P-K MACH® Condensing Boilers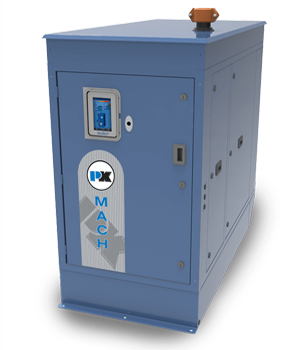 The P-K MACH® condensing boiler is an ideal choice for a wide variety of commercial and industrial building applications, including new construction as well as retrofit projects. It offers unmatched fuel savings with up to a 95% efficiency rating. It's "fit through the door" design eliminates any up-front construction costs. While, the NURO™ touch-screen control system allows for a quicker money-saving installation process, and no future hardware purchases for upgrades.
P-K SONIC® Condensing Boiler
The new P-K SONIC stainless, condensing boiler surpasses all expectations in efficiency, size and material design. The P-K SONIC breaks through the limitations of all other stainless designs with our revolutionary new DUET™ technology, an industry-first heat exchanger comprised of two unique chambers designed to optimize the turndown process. This unique design allows the P-K SONIC to operate at 97% efficiency with a 5:1 turndown and ultra-low emissions.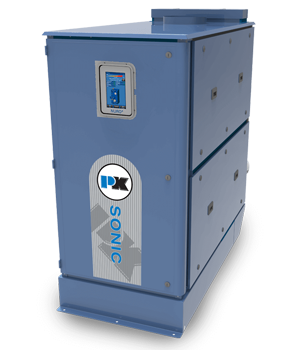 In most cases, there's no rigging required to put your P-K SONIC® condensing boiler in any room of your building, whether it's the basement or the penthouse. All P-K SONIC condensing boilers fit through a standard 36-inch doorway or standard elevator.
EVOLV Industrial Boilers
EVOLV INDUSTRIAL steam / water generators redefine critical use boiler designs. In a class by itself, EVOLV provides for the highest available standard performance. Highest standard efficiencies, lowest standard emissions and a vessel / gas tight engineered enclosure unmatched anywhere. Rapid heat up cycles. High turndown fuel burning equipment utilizing only state of the art solid state fuel / air metering is also standard with EVOLV. Field erectable systems provided with factory on-site assembly crews assuring continuity at the jobsite. Multiple unit systems allow for maximum fuel usage savings at any heating plant.